Payment & Delivery
Shipping Rates
Shipping Time
Shipping Fee
Shanghai Downtown Area
Order Value ≥ 500
Same day by request. Please order before 5pm.
Otherwise next day
(excluding Sundays/Holidays).
Delivery Time Selectable to within 2 hours.
FREE
No weight limit
Shanghai Downtown Area
Order Value < 500
20
Shanghai Outer Districts
0-1 days
(excluding Sundays/Holidays)
40
Up to 1kg
Each additional kg up to 10kg add...
Each additional kg over 10kg add...
Jiangsu, Zhejiang, Anhui
1-2 days
10
2
2
Beijing, Hebei, Tianjin, Fujian, Henan, Hubei, Jiangxi, Shandong
2-4 days
16
4
3
Guangdong, Guizhou, Shaanxi
2-4 days
16
5
4
Hunan, Sichuan, Chongqing, Liaoning, Gansu, Shanxi
2-4 days
18
5
4
Guangxi, Hainan, Inner Mongolia, Qinghai, Yunnan
2-4 days
18
6
5
Heilongjiang, Jilin
2-4 days
18
7
6
Ningxia
2-4 days
18
8
7
Xinjiang
2-4 days
18
9
8
Tibet
2-4 days
22
16
15
Payment
We now accept cash on delivery for orders in most major cities China-wide. However please note shipping charges to most areas outside Shanghai for full cases of beer/water/soft drink etc. will be expensive due to the weight of these items. Please also note some more fragile items (i.e. cans of soft drink and plastic bottles) generally cannot be shipped to desinations outside Shanghai; you can enquire for more details if you are unsure which items can be shipped to your location.

Other payment methods are bank transfer (China bank accounts in RMB only), Alipay (in RMB only), WeChat Pay (in RMB only) and PayPal (we will convert the order total to US dollars at the current market rate).
Delivery Information
We do not deliver on Sundays or most Chinese Holidays.

We offer same day delivery on most items for downtown Shanghai delivery. However orders for same day delivery must be made before 5PM. If you require urgent delivery please contact us by telephone.

For downtown Shanghai areas, customers can select a delivery date and time within our set 2 hour blocks starting at 11AM and finishing at 9PM (during the checkout process you can select your delivery time between 11AM-1PM, 1PM-3PM etc.). If you require delivery outside these times please contact us by telephone.

For outer Shanghai areas and other cities in China you can specify a preferred date for delivery but this is not guaranteed.
Shanghai Downtown Area Map
Check on this map to see if you qualify for discount shipping rates and ability to specify delivery time.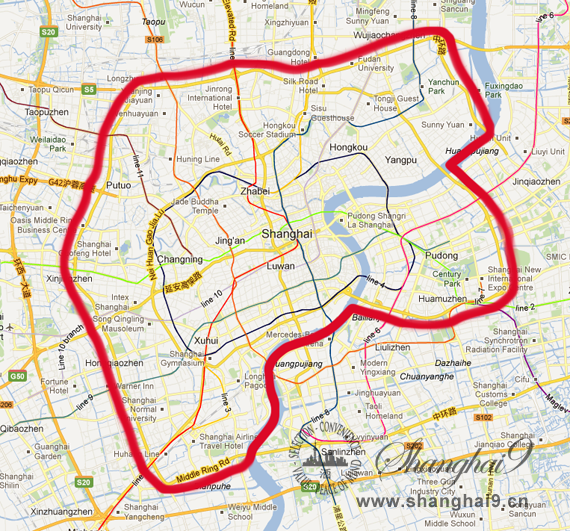 Click for enlarged view (opens in a new window)